Asian Scent
»
Beauty
»
Face Care for Women
»
Shiseido
»
Skincare
»
Womens Cleansers & Toners
» Shiseido – Future Solution LX Concentrated Balancing Softener 150ml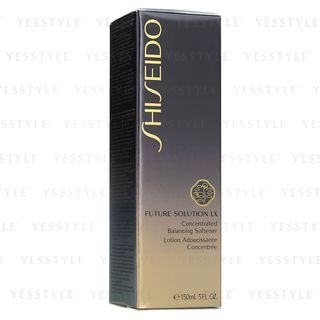 Shiseido – Future Solution LX Concentrated Balancing Softener 150ml
Enriched and packed with generous moisture, this concentrated skin softener superbly hydrates skin to restore suppleness and improve skin texture. After a few days use, skin tone is dramatically refined and pore size is significantly diminished to give skin a smoother and porcelain-like appearance. Apply Concentrated Balancing Softener on cleansed skin morning and night. By Shiseido. Brand from JAPAN: Shiseido.
- Future Solution LX Concentrated Balancing Softener
- An enriched softening lotion that immediately infuses generous moisture into skin, providing an unprecedented feeling of suppleness. Dramatically refines skin texture and minimizes the appearance of conspicuous pores.
- Exclusive Advanced Infusion Formula hydrates skin with long-lasting moisture to instantly promote suppleness and softness.
- Refines the texture of skin's surface while gently exfoliating to enhance the benefits of the following treatments.
- TO USE:
-Use every morning and night.
-Apply some formula on cotton pad or palm and spread over face.
-Start applying from wider areas such as the cheeks and forehead. Gently smooth over face from the center outwards.
- Pack Size – 150ml


Click here for details