Asian Scent
»
Beauty
»
Face Care for Women
»
Shiseido
»
Skincare
»
Womens Night Treatment
» Shiseido – Pureness Moisturizing Gel Cream 40ml/1.3oz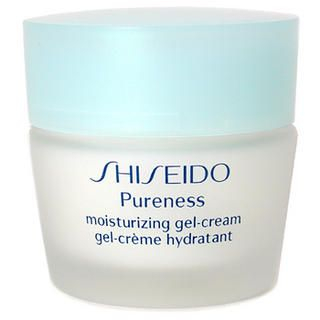 Shiseido – Pureness Moisturizing Gel Cream 40ml/1.3oz
A light and cooling gel moisturizer for acne-prone, oily and combination skin types. It is easily absorbed by the skin and effectively locks in moisture, so skin feels fresh and hydrated all day long. With peony root extract and rosemary extract, blackheads, blemishes and shine are minimized for a clear and flawless complexion. Non-comedogenic and dermatologist tested to be gentle to the skin. By Shiseido. Brand from JAPAN: Shiseido. A lightweight creamy-gel that instantly moisturises and softens the skin. It locks in moisture, leaving the skin feeling fresh throughout the day. The cream contains Hydro-Balancing Complex which replenishes the skin with moisture, and encourages the skin to moisturise itself from within to leave it soft and dewy.
Formulated with a blend of minerals, the protective barrier of the skin is strengthened and blemishes are prevented. The moisturiser contains Peony Root Extract and Rosemary Extract to control oil and defend the skin against blackheads, blemishes and shine, and Oil-Absorbing Powder to reduce shine and minimise the appearance of pores.
The moisturiser also contains an aromachology fragrance, containing Syringa Element, the calming, refreshing floral aroma inhibits the production of the stress hormone Cortisol, which in turn, reduces sebum production.
Non-comedogenic and dermatologist tested to be gentle to the skin. Can be used by normal-combination and dehydrated skin types under 25.
Pack Size – 40ml/1.3oz
Click here for details